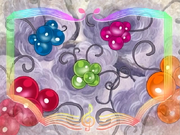 Magic Spheres
are useful items necessary for an
Apprentice Witch
to power her
Pollon
and grant her the ability to use magic. When her wand is empty she can no longer use magic. They also play a big role during the
Exams
.
They can be collected by their Witch Mentor for use, purchased from Dela, and traded as currency. They can also be grown and traded for precious, well-loved human items.
After season 1, they were upgraded to Magic Seeds.
Appearance
As the name implies, a magic sphere is a small, marble-like object that comes in a variety of colors.
History
Doremi Harukaze first encounters the Magic Spheres shortly after becoming a witch, when Majorika informs her that she shouldn't be wasteful with them. She has Lala refill her wand and sends her on her way. Later, the girls are reminded of this after she and Aiko continuously cast magic in an attempt to do as well as Hazuki does on her first try.
A while later, Doremi is warned to save at least one for an upcoming exam. Then she learns about the value of Magic Spheres as the group explore the witch world, trade a well-loved shirt, and work for a witch in order to earn more.
In Other Languages
Trivia
Gallery
Community content is available under
CC-BY-SA
unless otherwise noted.