Introduction

Welcome to the Magic World~!
Welcome to the Ojamajo Doremi wiki! This wiki covers all things Ojamajo Doremi, from its cute little taps to full episode summaries and the dub, "Magical Doremi".
Please be aware that this wiki contains spoilers for the series, so be sure to read at your own risk!
Forbidden Magic
Feel free to edit or add as you please but please keep in mind that your edits may be deleted for lack of grammar, correction, or improper content.
Fan images do not belong on official pages/articles unless fanon or user page related.
No Adult Content of any kind will be tolerated. This wikia should be suitable for all ages.
Respect other Members of the Wikia. If someone gives you problems, reach out to an Admin.
Series
Main Characters
Characters
!☆☆☆ New Magic Spells ☆☆☆!

A third Ojamajo Doremi Shop has been announced to open at Ikebukuro PARCO from January 11th to February 27th, 2019.

---

Two Ojamajo Doremi panels were featured during the Anime Film Festival Tokyo 2018. The first panel on October 12th screened episodes 1 and 30 from the first season and the second panel on October 19th screened both Ojamajo Doremi movies.

---

We need help with the episode reviews!!!

---
!☆☆☆ Poll ☆☆☆!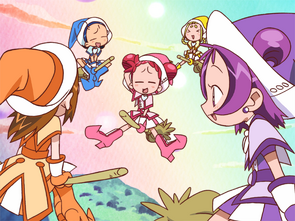 2019 is Ojamajo Doremi's 20th anniversary. Are you expecting anything to happen?
Previous Poll: Choose your favorite season!
Winner: Motto! Ojamajo Doremi